Nigerians express concern for singer, Duncan Mighty over his new appearance
Award-winning legendary singer, Duncan Mighty has raised concerns from his fans and lovers over his new appearance.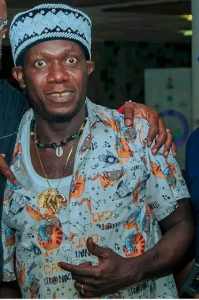 The singer, who resides in Port Harcourt, has become a trending topics on Twitter following a new photo of him. The 'Port Harcourt' singer was spotted at an event looking unrecognizable.
The photo which has shine viral has left many questioning the singer's health status.
One Living Saint wrote, "What happened to our very own Duncan Mighty? Even if he's battling some undisclosed ailment. What about that Lie Muhammad's cap? Hope he's fine though
One Funny Kante wrote, "Oh my God what happened Duncan. What happened to Duncan oh my God
One Glo Diva wrote, "Ohh my God I couldn't even recognize him. May God help you
One Mazi Bukaz wrote, "He might be going through stuff but as usual people will mock and make tasteless joke rather than mind their business
One Stanley Nweze wrote, "Na Duncan Mighty be this?
One Nicholas Sokari, who was in disbelief wrote, "This is not him
One Ojay Igwe wrote, "As hard as I refuse to believe that this is him, I pray that in case this is him, he can find healing. It is until you'd never know how many it is until you're sick or dead. Rise down shoulder and always be grateful".